Reckart Logistics Customer Testimonials and Reviews
Simplified Shipping Experience at a Competitive Price
At Reckart Logistics, we provide our customers a simplified shipping experience at a competitive price. We believe in building strong relationships by exceeding our customers' expectations in every way. Each of our carriers is a prequalified professional. Our customer support team is dedicated to ensuring that your experience with Reckart Logistics is exceptional, and our entire team is dedicated to serving your government or business warehousing, storage, and shipping requirements promptly, safely and with maximum efficiency.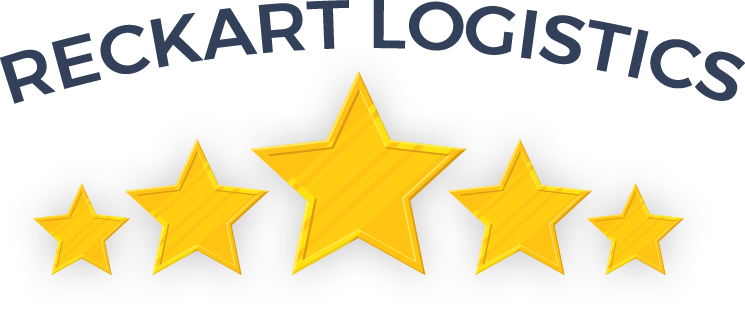 Best Customer Service and Shipping Experience Nationwide
We enjoy hearing from our customers. Let us know what you enjoyed about your shipping experience with Reckart Logistics, as well as any additional feedback that you may have. If you have any concerns, please contact our customer service department immediately. We continually strive to improve our performance to best meet the needs of each of our valued clients nationwide, as well as throughout Mexico and Canada. Thank you for taking the time to contact us.
"Great service and pricing. Dominic and Brett have made our transactions very easy and they provide top notch customer service. Highly recommended by A.M. Shipping Inc."

-Rory
"Our Company found ourselves in need of a new carrier after many years with what we thought was an amazing freight company. Usually that can be a nerve racking experience, but we chose Reckart Logistics. Since we realized what we were missing out on. Josh and Scott made it a point to come to Florida and introduce themselves in person. Their entire staff is always professional and courteous with our staff and more importantly with our customers. I would recommend them for anyone to use for their shipping needs."

-Todd
"They are simply the best! My company has used them for many years to transport our machines, I have personally been working with them for 2 years and have never had a bad experience. Excellent customer service, polite and courteous every time you talk to them. They are very dependable and always willing to go the extra mile for us and our customers. I would highly recommend them! :)"

-Hannah
"I have had the pleasure of working with this company for several years. I have been most impressed by the professionalism and integrity with which business is conducted. There is a common thread that runs through the entire organization and is deeply embedded in the culture to make every customer and their experience a top priority. If you are in need of a great transportation company that will care about what is most important to you look no further than Reckart Logistics you'll be glad you did!"

-Laura
"Top notch quality service with fair pricing! What I love about the amazing team at Reckart Logistics is that they manage direct contact with the end-user, and keep me informed with daily progress along the way. There is a sense of comfort knowing that our equipment is in the hands of a company that excels in logistical experience, and strives for customer service excellence! Reckart is the way to go!"

-Jamie
"We have used other trucking companies in the past and none of them rate or compare as high as Reckart Logistics. They are very efficient, great communication and make sure all of our deliveries run smoothly. This is very important for us in the Haas business as we put our customers first and Reckart Logistics makes sure our customers feel this way too! I would highly recommend Reckart Logistics for all your shipping needs."

-Donna
"Great experience working with Reckart Logistics. They provide excellent communication between our business and our customers. Our machines are delivered in timely manner and drivers are well experienced with transporting CNC machines. Very responsible and detailed oriented company. I would recommend using Reckart as your logistics company."

-Anna
"Always responsive to any requirement we might have! Delivers as promised at a very competitive rate. Takes the time to know our business so they can provide the service we expect. Oh, and they are great people!"

-Dave
Reckart Logistics has been our go-to freight carrier for 10+ years, these guys are awesome! We use them to ship everything from large CNC machines to pallet changers & industrial saws. On time, professional and trustworthy."Reckart Logistics has been our go-to freight carrier for 10+ years, these guys are awesome! We use them to ship everything from large CNC machines to pallet changers & industrial saws. On time, professional and trustworthy."

-Ellen
"Best of the Best! Josh, Ethan, Owen are remarkable! This team and their leadership knows how to provide top notch service!"

-Alyssa
"Perfect! I am quite pleased with the level of service and hope to do much more business with you going forward! Thank you!"

-Gene
"I am not sure how Houston found us, but he called at the exact perfect moment. I had an emergency load that had to be run and he jumped all over it for me. The pricing was good, the timing was on point and the service was excellent.

I have dealt with many different trucking companies and brokers and have never found customer service like that with Reckart Logistics. Houston has set up quite a few loads for me and will continue to get my business. He is professional, communicative, and honest. He makes the shipping portion of my job easier. I know that he is young and probably still has a lot to learn in your industry, but I think he is absolutely on the right track.

We have not always been an easy customer. We have made many last minute changes, been late on loading, given short notice on our need of a truck, etc.; I have had to call him in the early morning hours, late at night and even on the weekends. He has always answered or called me right back. Through all of that Houston has remained calm, collected, and focused. He has never let us down.

I am telling you all of this because I believe that every owner wants to know that their company's image is held to a certain standard and also because I believe that every employee deserves recognition for their hard work and dedication."

-Amy
"Reckart Logistics Inc. has been a steady customer of DLA Energy for a number of years now. Reckart has faithfully serviced DLA Energy customers without incident. There have been many times, such as during Hurricane Sandy, that Reckart came through, when other carriers did not. When incidents such as Sandy occur, the Army and Air National Guard locations are often activated for emergency response. In these incidents, Reckart was always willing to make deliveries that were not only vital to DLA, but also the wellbeing of our nation. There have been several instances when regular system deliveries were not established in our
transportation system, and Reckart came through, making the delivery on time, submitting a verbal price quote, and then later submitting the tender as time permitted. These types of cases extremely helped our organization get the fuel to our customers, within short suspense timelines, thus meeting the customers' demands."

-
Randy
"We have used Reckart Logistics for several years for our shipping needs. They have been instrumental in moving freight quickly and efficiently for our company. They offer competitive pricing and Reckart is always our go to carrier. They are always dependable even with out of the norm situations. Their great customer service and friendly attitudes has made them very easy to work with and we know we can rely on Reckart Logistics to get the job done"

-April
"This kind of excellent customer service is why we do business with Reckart. I appreciate the honesty and have recommended to anyone in this company that arranges trucking to use Reckart first. I will also let our entire network of distributers know that they should use Reckart."

-Jennifer
"After doing logistics the same way for over 25 years, we started working with Reckart. They became our sole source solution"


- Bob